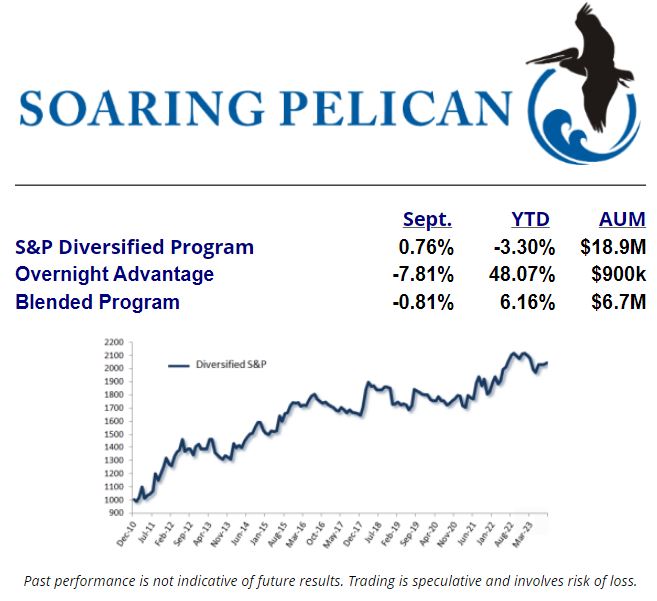 View Tearsheets here: PERFORMANCE DETAILS
Click here to view the latest presentation.
Big Picture
We noted in our last communication that a number of technical factors would likely pressure the market lower. September prices did fall further, and now we see the market in a place of technical support.

The S&P is strongly affected by the 200 day moving average, this is a huge psychological marker for many participants. In September price came to rest on that average and is attempting to rebound. While there are a number of reasons that support some strength in the market fundamentally, we believe that the headwinds will neutralize a sustained move higher.

One factor to consider is that the larger participants in the market are not showing confidence. This can be plainly seen by looking at the Russell 2000 index, which is dramatically underperforming. Similarly, the ratio between larger cap/smaller cap stocks in the S&P and Nasdaq significantly favors the large caps.

Fund managers are fleeing to quality names, probably due to a rising rate environment stunting future growth.

Recent Program Performance
Due to the increase in volatility, the Diversified program made some progress during September. We expect this to continue as the long holders begin to question their positions.

The Overnight Advantage program attempted to buy dips this past month and was stopped out three times. This is unfortunately part of the game. Our risk control mechanisms kicked in during the month and kept us out of trying to pick a bottom as market breadth continued to decay.

Our Outlook
Once again, we see a trader's market rather than a buy and hold environment. While momentum plays in individual names are standing out, the strength in the equity market as a whole is far from robust. The Energy and Industrial sectors in particular are showing resiliency.

The majority of S&P companies are reporting positive revisions to their forward earnings, so fundamentally the US economy appears to be intact. This does not mean that US markets will remain strong as participants price in a rising interest rate environment.
Best regards,


Sam Beckers and Dario Michalek
Soaring Pelican, LLC
805-322-7393
PAST PERFORMANCE IS NOT NECESSARILY INDICATIVE OF FUTURE RESULTS. FUTURES TRADING IS SPECULATIVE AND INVOLVES A HIGH DEGREE OF RISK.

This message is intended for the use of the individual or entity to which it is addressed and may contain information that is privileged, confidential, and exempt from disclosure under applicable law. If the reader of this message is not the intended recipient, you are hereby notified that any dissemination, distribution or copying of this communication is strictly prohibited. If you have received this communication in error, please notify us immediately and destroy all hard copies and delete the original message and any attachments. Thank you.